Official Ryan Searle Replica darts shirt were available in Home and Away versions.
In a lightweight, breathable material, this shirt is worn by Ryan in all PDC tournaments. In a distinctive black and red colour scheme, this dart shirt to ensures you rock it like "Heavy Metal" himself.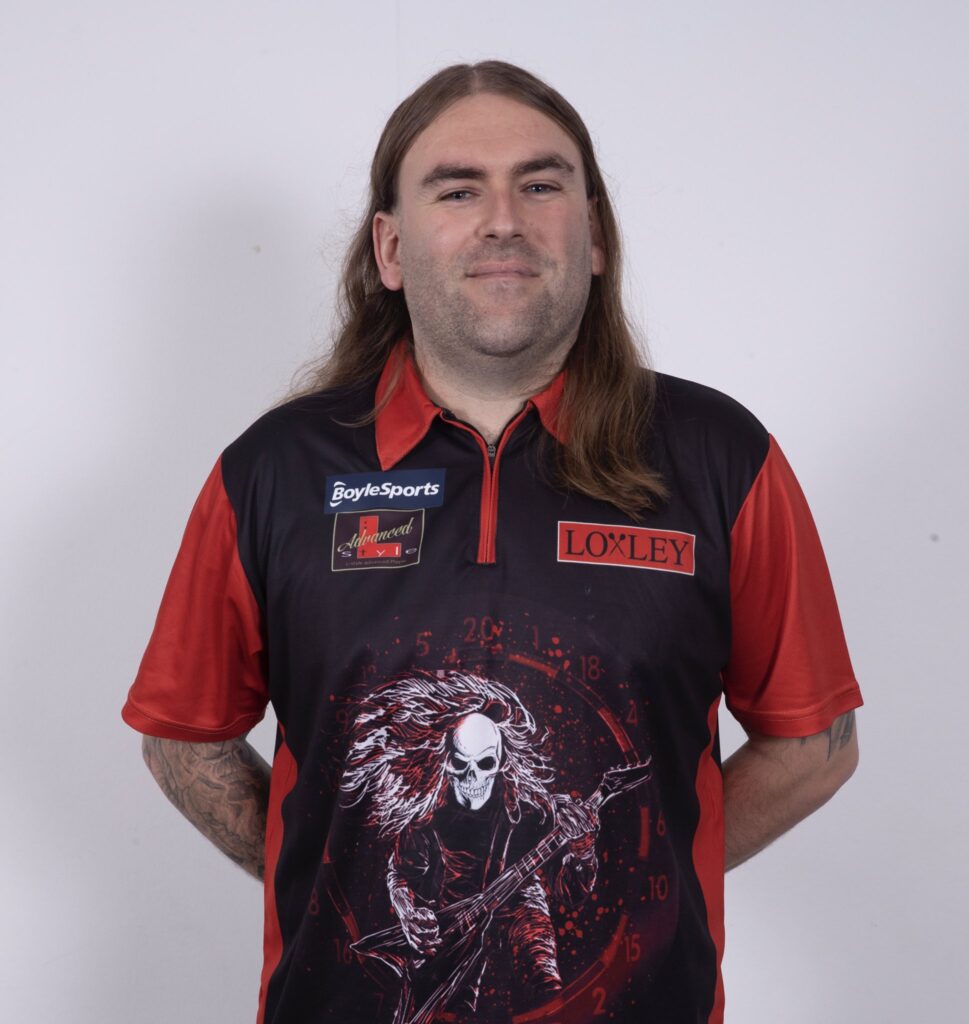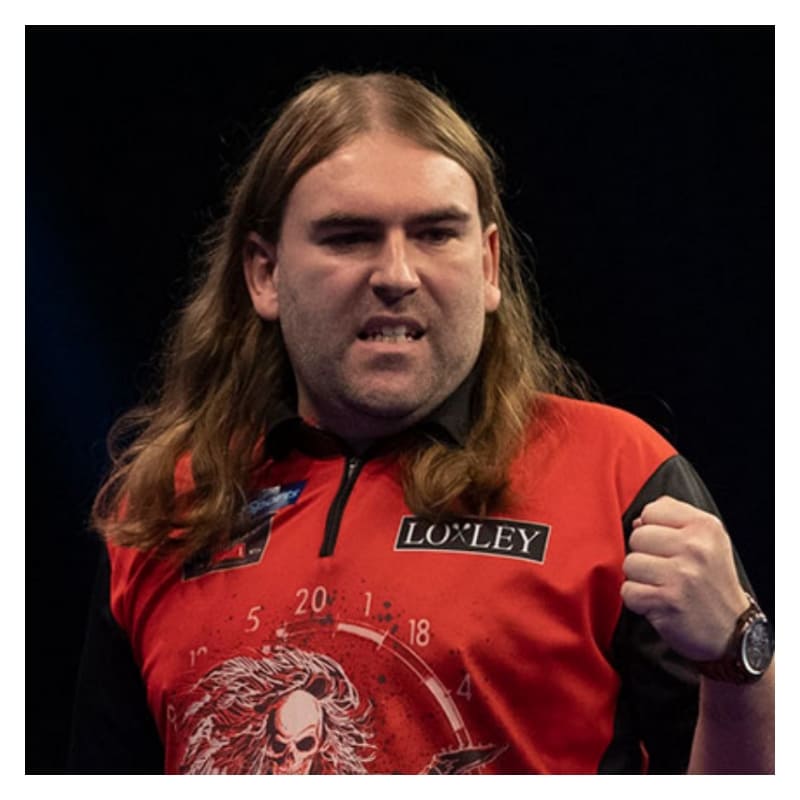 Designed by Matthew Birch, Ryan Searle and Luis Almeida.
Review by Joe Reid
One of the most likeable characters in the game, Ryan Searle has gone from strength-to-strength in recent years, as he hunts down a spot in the Top 16 of the PDC rankings. With new sponsor Loxley Darts by his side, he looks set to continue his pursuit, with the goal of competing in more televised tournaments firmly on his mind. With this goal in mind, he will need to look the part in front of the camera, and his new shirts produced by Loxley will help him do just that.
In the past, Ryan has worn primarily black shirts, with little or no personalisation. For the last couple of years, Ryan has donned a black shirt with lightning across the front and back, with his nickname 'Heavy Metal' around his upper back. Loxley have completely changed Ryan's style, incorporating more of a personalised feel to the shirt, moulding it around his nickname and persona with a 'Heavy Metal' music theme.
Ryan has had two shirts manufactured for him by Loxley, with similar styles and themes, yet with alternating colours, as seen on the Matthew Edgar and Aaron Beeney shirts. Ryan has kept his preferred black style shirt, with red sleeves, collar and sides, with the Loxley logo altered so as to stand out against the black shirt, with the wording encased in a red box, to keep to the colour scheme of the shirt. His alternate shirt, not yet seen in a streamed/televised match, simply switches the red and black around, offering Ryan the choice of a brighter, more vibrant shirt.
While the shirts feature bold colours, with very little going on within the background (unlike, for instance, Aaron Beeney's shirts, with the triangular design remaining consistent throughout), Ryan's shirts compensate for this with stunning graphics on the front and back of the shirt. The front features, besides logos from sponsors Loxley Darts and L-Style (who manufacture the moulded flights and stems Ryan uses), an image of a skull rock-star playing the guitar, surrounded by a dartboard, paying homage to Ryan's nickname, incorporating both the music, and darts into a unique, stunning-looking graphic.
On the back of the shirt, Ryan's nickname takes prominence, in an interesting jagged font similar to that used on various album covers for rock bands, such as Iron Maiden or Metallica. On the black shirt, fading red lines can be seen in the background behind the text, adding depth to the shirt and helping Ryan's nickname to stand out. This, however, is not seen on the red shirt, with the shirt simply staying plain red, with nothing fading into the background.
Towards the bottom of the shirts, a second graphic can be seen – this time of a collection of skulls piled up, with three (very well grouped, I must admit) darts sticking out of a skull on the right hand side. While a gruesome image, the design blends in well to the shirt itself, with the use of red, black and white keeping the image consistent with the rest of the shirt. Underneath the pile of skulls sits Ryan's name in bold, white letters, dashed with red to create a bloody effect. These shirts aren't for the faint-hearted!
These shirts felt extremely light and comfortable to wear, something I personally look for when choosing a shirt for my own matches. Made from 100% polyester, you can be sure they will remain in perfect condition, from their first use to their hundredth – perfect for Ryan, and his demanding PDC schedule. As well as this, in pressure situations Ryan can be sure he won't feel the heat, with the shirts utilising synthetic fibres, meaning they have high water resistance should you start to sweat. One complaint I had, which I found consistent with all seven Loxley shirts I've reviewed to date, was that the collar felt slightly firm when first worn, and so I'd advise to wash the shirt a few times before use, in order to make the collar more supple, eradicating any unnecessary discomfort before you toe the oche for the first time.
Final Thoughts:
Appearance: 10/10 – An easy one for me to start off with – full marks! I love these shirts, and honestly believe they're two of the best looking shirts on the market today. With their own unique style, and two contrasting colours to choose from, as a consumer you're spoiled for choice! I really struggled to decide which I preferred… they're both stunning!
Feel: 9/10 – As I mentioned within the review, and in my previous Loxley shirt reviews, the feel of the shirt itself is faultless. The shirts are light and comfortable, with an accurate fit. The shirts feel unrestrictive around the shoulders, allowing you to pull back and release the dart with no discomfort, allowing you to throw with confidence. The only issue I had was the aforementioned collar, and yet as I explained, it's an issue easily remedied.
Quality: 10/10 – With such intricate designs and vivid colours, I expected one or two manufacturing errors here and there… I was pleasantly surprised! I could find no loose threads, nor colour overlap or fading. The shirts were in pristine condition, and credit must go to the quality control team at Loxley, as well as the manufacturing and design teams – a fantastic job done by all!
Value for Money: 9/10 – These shirts retail at £37.95, keeping in line with the other shirts in the Loxley range, as well as other player branded shirts manufactured by other companies. For a shirt of this quality and intricacy, the price is well justified, resulting in the highest score, in terms of 'Value for Money', that I've ever given a darts shirt before. As well as this, for true fans of Ryan Searle, Loxley also sells shirts signed by 'Heavy Metal' himself for just £7 extra! Perfect for framing – they'll look amazing in any darts room!
Thank you to Loxley Darts for sending out these amazing shirts for me to try, and review! Really enjoyed taking a closer look at these amazing shirts, and can't wait to see Ryan in action using them in the upcoming PDC Winter Series! Stay tuned, as more reviews are on the way!
Author – Joe Reid